Pulse Oximeter Fingertip: Monitor Your Blood Oxygen Health
Fast & Accurate: Accurate display of SpO2 (blood oxygen saturation levels), heart rate and pulse strength in less than 8s
No Buttons: 1.5" LED large full-screen design makes oximeter readings very easy to read. If there is no operation within 10s after power on, the pulse oximeter will automatically turn off to save battery power. Need 2 AAA alkaline batteries (not included)
Easy to Use & Well Made: Auto-sensing, finger insertion automatically turns on the measurement. Silicone cover blackout design, sensitive and accurate
Sports/ Health Enthusiasts: Lightweight with lanyard for easy portability. Ideal for climbers, skiers, cyclists, flyers or anyone who wants to know their SpO2 and pulse rate on the move. Users should only use the pulse oximeter fingertip before or after exercise and should remain stationary while the pulse oximeter fingertip is working to obtain accurate result
Suitable for All Sizes: Fits all finger sizes with the intelligent spring system. Suitable for people aged 12 years and over. Please read the manual carefully before using the fingertip pulse oximeter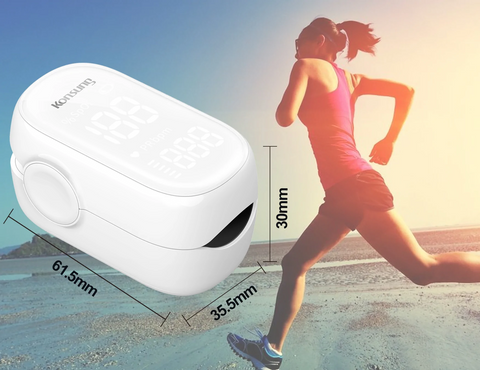 1. This upgraded, full-screen pulse oximeter fingertip is designed for hikers, skiers, cyclists, flyers or anyone who wants to know their SpO2 and pulse rate while on the move.
2. Auto-sensing measurements without any buttons and a large 1.5" screen make readings easy and reliable.
3. If there is no operation within 10 seconds after power on, the pulse oximeter will turn off automatically to save battery power. And it is equipped with a low battery capacity indicator, when the battery capacity is low, the battery icon on the screen will flash to remind.
4. Compact shape, also with a lanyard, portable and easy to use.
5. Perfect gifts for Father's Day, Mother's Day, Thanksgiving, Christmas and birthday. Helpful and handy peace of mind knowing your heart rate and oxygen saturation.
Note:
*This device is not a medical device and is not intended to diagnose and/or treat any medical condition or disease. This device is for Sports and Aviation use only and not for medical use.
*Too cold or too thin finger may affect the measurements; fully insert your finger (index, middle and ring fingers are recommended) into the oximeter during measurement.
*Fingernail polish or false fingernails may cause inaccurate SpO2 readings.
*Remain stationary while the oxygen meter finger pulse oximeter is working to obtain accurate data.
---