Product Structure:
Nasal Mask: Pneumatic rebound silicone cushion, high airtightness, soft and non-marking. While reducing facial pressure and discomfort, it enhances facial fit and makes wearing more durable. Ultra-light and durable frame is used to ensure that the mask is attached to the face and stable, while adapting to the wearer's hyperactive sleep.
Headgear: Soft and lightweight headgear with soft skin-friendly fabric, lightweight and stable. Velcro structure, easy to adjust, help wearers adapt as soon as possible, comfortable to sleep.
360° Rotating Elbow: Ensure comfort while increasing freedom, not limited to fixed position. Honeycomb vent design, multi-hole exhaust, reduce the intensity of airflow flushing, sleep more quietly.
Applicable Machines Models: Universal mask. Suitable for machines with a tube diameter of 22mm(0.87 inch).
Package Included: Including Nasal Mask, Buckle x 2, Headgear and Transparent Cover. Sealed bag, no assembly required. 30 seconds to wear quickly, just snap the buckle, pull the headgear tight, sleep position freely.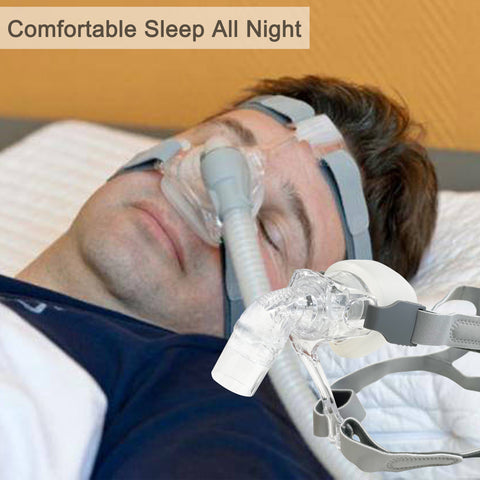 Nasal Mask Accessories:
360° Rotating Elbow: Flexible positioning of tube direction, increasing the wearer's freedom
Anti-blocking Micro Vent: Multi-hole exhaust design, effective diversion, gentle and quiet
Pneumatic Rebound Silicone Cushion: Soft silicone, double-layer structure design, high airtightness, easy to clean. New upgrade, smaller contact area, more open view
Soft and Lightweight Headgear: Using soft skin-friendly fabric, lightweight and stable Velcro-type structure, easy to adjust, help wearers adapt as soon as possible, comfortable to sleep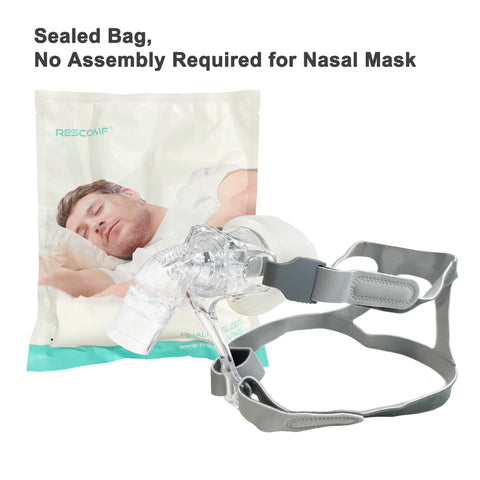 How to Wear:
Put the mask over your nose and pull the headgear over your head
Connect the clips to the frame. Adjust the upper headgear straps until it feels firm and comfortable
Repeat step 2 with the lower headgear straps
For best comfort, leave a space wide enough to allow two fingers to pass
Connect the tubing to the swivel
Connect the other end of the tubing to the machine
How to Clean and Maintain:
Hand wash all parts of the mask with warm soapy water and air dry in an environment that is protected from direct sunlight
Clean the air vents with a soft brush
To obtain a better mask sealing effect, each time the mask after use, should be cleaned mask silicone pad on the skin exuded oil
Note: Do not use aromatic solutions, bleach, alcohol or harsh-smelling products to clean the nasal mask components. If not rinsed thoroughly, residual vapors from these cleaners may be inhaled by the patient and may even damage the mask