Features:
Test Canine Distemper for your dogs at home.

Used for Canine Distemper Virus CDV antigen test for dogs.

Simple to operate, just 4 easy steps to finish the whole process.

Non-invasive, in vitro screen the virus, diagnosis auxiliary tools for dog CDV infection disease.

Reliable and highly accurate with results in 5-10 minutes.
This product can quickly and qualitatively detect the CDV antigen in ocular and nasal secretions, and is used for CDV infection screening and auxiliary diagnosis.

⚡⚡US Stock, 1-5 Business Days Delivery, Shop Now!!🚀🚀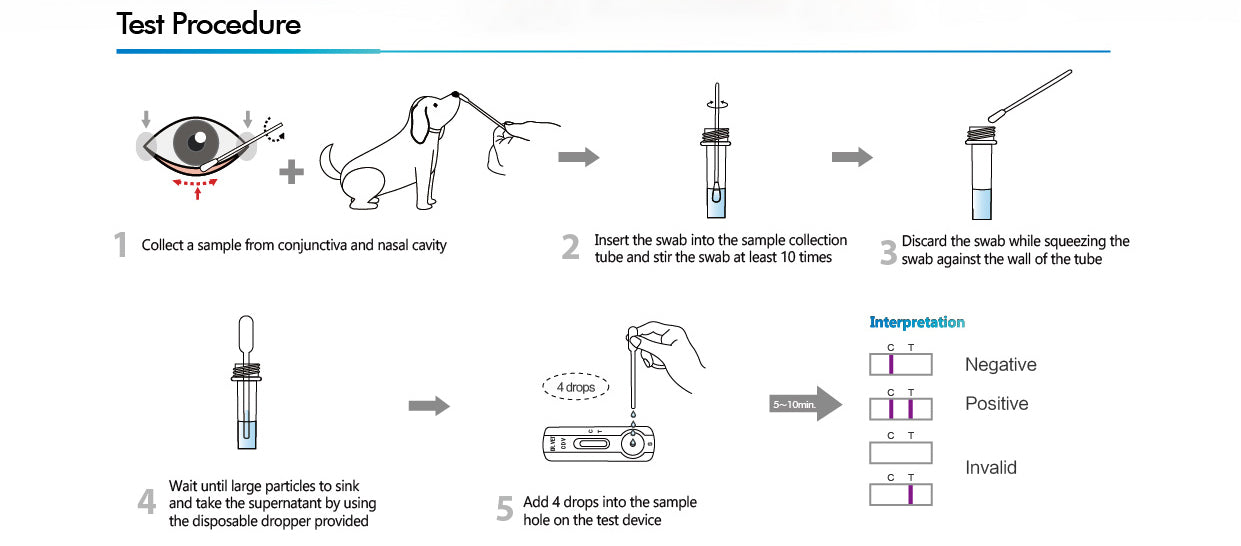 MonggoQ, from the moment it was born, stands with every furry baby, pays attention to the life and health of every life, and protects every member of every family. To this end, we promise to donate $1 to some animal rescue organizations for every item sold - we hope to witness the meaning of every life!
We offer FREE SHIPPING worldwide. 
The standard process time of order is between 1-3 business days, Monday through Friday 9 am to 6 pm Eastern Standard Time. We do not process on the Sunday or holidays. Usually, the orders can be shipped out within 72 hours after getting the payment, not including the weekends or holidays. Please plan in advance accordingly.
We use different delivery methods for different products, so the delivery time will be different.
Shipping from California and 1-3 business delivery days for USA
7-15 business days for the other countries.
15-20 business days for all countries.
Note: Affected by Covid-19, there will be some delay on the delivery. 
Thank you so much for purchasing our products.
At any time within 30 days of receiving your order, you are not 100% satisfied, you may return it to us for a refund.
If you bought the product from www.smilecarehealth.com, you can return it to us.
Your payment card will be credited upon receipt of the returned merchandise. Any items damaged due to reasons not covered under warranty cannot be accepted back for refund under our 30 Day Money Back Guarantee.
If you are sure you want to return the goods, please contact us at first at support@smilecarehealth.com.