Key Features
2*90 Sets memory function ---Each measurement result will be displayed clealy on the large screen, and stored automatically. This unit has blood classification index, could be easy and convenient to check your family blood pressure.
Wide cuff range(22-42cm) ---Adjustable cuff will reduce the uncomfortable feeling by incorrect cuff size, and shorten the measurement time.
3 times average ---The BP monitor can obtain more accurate measurement results by automaic 3 times average.
One-button measurement ---It gives much more convenience for the old with large, clear and blacklight screen.
Small size no space occpying ---With this product, you can monitor your health at any places, even when you are outside, it is unnecessary for you to think about bringing the pulse meter monitor or not.
Optional battery or Usb charging ---You can use 4*AAA alkaline batteries to charge this BP monitor when you are in the open air or you are no usb charging available.
Year/ Month/Date/Time function ---It is no need to get a clock since the tonometer has time display.
Automatically power off ---The blood pressure monitor will turn off automatically after your measurement results are shown, even in the condition that you forget the power-off of the unit.
Excellent, high-quality, compact, accurate measurement: CE approved.
Product Information
Name: Upper arm electric blood pressure monitor
Brand: Konsung Product Size: 130*100*47MM
LCD Size: 73*54MM Blood Pressure: 0-299mmHg
Pulse Rate: 40-199 pulses/min
Cuff Size: 22-42cm Sotrage
Memory: 2 * 90 sets memory of measurement values
Power: 4*AAA alkaline batteries (not included) or usb charging
Automatic Power-off: in 3 minutes
Blacklight: Yes
Irregular Heartbeat Detection: Yes
Low Voltage Display: Yes
Time & Date Display: Yes
Notes
The accessories cuff is L size, for upper-arm circumference 22-42cm. The cuff is treated as the applied part. Arm circumference should be measured with a measuring tape in the middle of the relaxed upper arm.
Batteries is not included in the package.
When use the AC adapter, the power of the battery won't be consumed.
This Sphygmomanometer product can't be used in patients who is with severe heart insufficiency to avoid suffocation and death. This blood pressure monitor is not suitable for infants and children. The automatic blood pressure monitor intends to measure the systolic pressure, diastolic pressure and pulse rate through upper arm. It's expected to be used at home or in the hodpital, intended for people over 12 years old.
Package Contents
1*Outer box
1* Monitor
1*Armband for upper arm
1* Instruction manual
1*USB Line(free gift)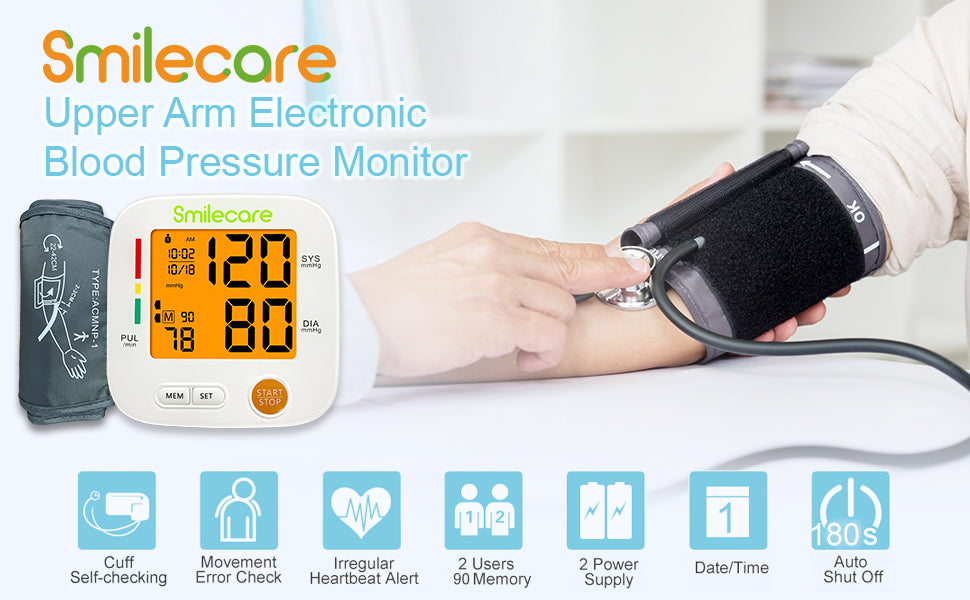 Smilecare is committed to the cause of family health care,
we hope that people can no longer be troubled and tortured by respiratory diseases, especially COPD.
Happiness lies first of all in health.
We hope to bring more laughter to you by protecting your health!
We offer FREE SHIPPING worldwide. 
The standard process time of order is between 1-3 business days, Monday through Friday 9 am to 6 pm Eastern Standard Time. We do not process on the Sunday or holidays. Usually, the orders can be shipped out within 72 hours after getting the payment, not including the weekends or holidays. Please plan in advance accordingly.
We use different delivery methods for different products, so the delivery time will be different.
Shipping from California and 1-3 business delivery days for USA
7-15 business days for the other countries.
15-20 business days for all countries.
Note: Affected by Covid-19, there will be some delay on the delivery. 
Thank you so much for purchasing our products.
At any time within 30 days of receiving your order, you are not 100% satisfied, you may return it to us for a refund.
If you bought the product from www.smilecarehealth.com, you can return it to us.
Your payment card will be credited upon receipt of the returned merchandise. Any items damaged due to reasons not covered under warranty cannot be accepted back for refund under our 30 Day Money Back Guarantee.
If you are sure you want to return the goods, please contact us at first at support@smilecarehealth.com.